07/20/2016 / By whitehousenews
---
Donald Trump spoke out Wednesday about the controversy over alleged plagiarism in his wife's convention speech, accusing the media of focusing more on Melania Trump's remarks than Hillary Clinton's private emails.
(Article by Sarah Westwood)
"Good news is Melania's speech got more publicity than any in the history of politics," Donald Trump tweeted Wednesday.
The second day of the Republican convention was dominated by discussion of the similarities between Melania Trump's Monday address and the speech delivered by Michelle Obama at the 2008 Democratic convention.

The Republican nominee argued reporters have expended more resources pouring over his wife's speech than the FBI spent digging through Clinton's private emails.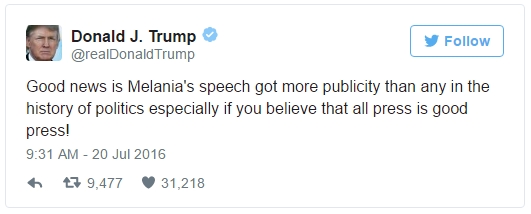 Donald Trump remained noticeably silent on the controversy over his wife's speech as it unfolded Tuesday, although senior members of his campaign staff offered a series of explanations for the overlap between Melania Trump's remarks and Michelle Obama's.